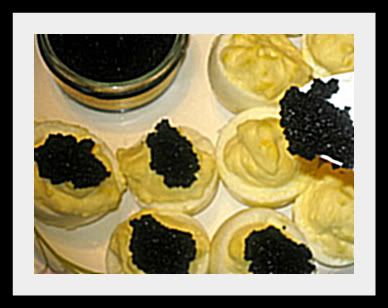 Ingredients:
8 eggs
2 tablespoons light mayonnaise
2 tablespoons fat free sour cream
1 Tablespoon lemon juice
¼ teaspoon Salt
2 ounces small black caviar (American)
Directions:
Place eggs in pan with a fitted lid. Fill with enough water to cover eggs. Bring water to the boil and boil for 1 minute. Cover with lid and let pan sit for 15 minutes.
Peel shells and slice eggs in half reserving yolks in separate bowl.
Mash yolks until powdered, Stir mayonnaise, sour cream, lemon juice and salt to combine.
Fill pastry back with large star tip and pipe mixture into whites or spoon mixture to fill each half.
Refrigerate until ready to serve. Keep caviar refrigerated.
When ready to serve top each egg half with a dollop (approx ½ teaspoon) of black caviar using a non metallic spoon.
Here are the nutrition facts per piece. Recipe make 16 servings.
Enjoy!
Looking for party worthy Appetizers that fit into a diabetic healthy meal plan? Try my kicked up deviled eggs! I found this wonderful recipe for deviled eggs and amazingly as elegant and delicious as these treats are, they are also high in protein and extremely low in carbohydrate. Did I mention that they are delicious?
Current Mood:

Sophisticated
Last year, I entered my first baking contest at the Orange County Fair. I won 1st place in my category of Cakes (specialty - sugar free) and then First place in the entire Division of Cakes. Meaning my cake was judged to be the best cake (sugar free or not) that is quite a compliment for a sugar free baker!. Here's the winning recipe. Enjoy!
Hazelnut Fudge Cake
4eggs, separated
1 cup hazelnut meal/flour
1/3 cup erythritol
1/8 tea cream of tarter
2 tea vanilla
I tea butter extract
1/3 cup sugar free (Splenda sweetened) maple syrup
2tbs + 2 tea agave, I like Madhava''s Amber Agave
1/2 cup Sunspire Grain sweetened chocolate chips
2 tbs evaporated fat free milk
1/3 cup Hazelnuts
Preheat oven to 350. Toast 1/3 cup hazel nuts on cookie sheet or foil lined pan for 10 minutes (set aside to cool).
Spray a 9" square pan with non stick spray.
In a medium bowl mix just to combine 1 cup hazelnut flour, 1 tsp ea butter and vanilla extract, 4egg yolks and 1/3 cup sugar free maple syrup.
In a separate bowl beat egg whites, erythritol, cream of tartar and 1 tsp of the vanilla with electric beater on high until stiff peaks are formed.
Add about a half to one cup of egg whites to Hazelnut mixture and blend to help "lighten" the mixture. Once combined add remaining egg whites and gently fold until just combined.
Pour into sprayed square pan (or lined and sprayed muffin tins)bake 350 for 25 minutes (20 for muffin tins)or until lightly browned and springs back when lightly pressed.
While cake is cooking combine chocolate chips, milk and agave in small microwave safe bowl and heat on high for 30 seconds. Stir to combine (1-2 minutes) mixture will pull together and thicken as you stir. Continue stirring until it cools and thickens slightly. Set aside at room temp.
Peel husks off of hazelnuts (some may remain, but remove as much as you can). Chop roughly, in about fourths. Make sure to not chop too finely.
Cool cake to almost room temp (it will deflate and flatten to just under the pan edge, this is expected). Pour chocolate glaze and spread evenly pushing mixture just too edges but not over the sides. Top evenly with toasted nuts. Refrigerate until completely chilled. Cut into 16 squares.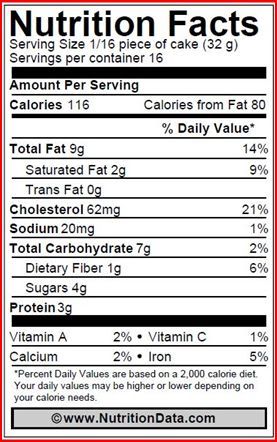 Lucy, I'm home! The website has officially been taken down and I'm back to my roots of blogging. Putting my website up took away from the time I'd rather spend sharing my recipes and insights. I have been inventing and cooking and can't wait to share. So Welcome Back to my I'm home!
It's the Insulin Stupid
"
Although there is evidence that the control of insulin through low glycemic indexed foods is on the right path, some feel it's too soon to call it the "cure". The Mayo Clinic Reports that, "the American Diabetes Association has concluded there isn't enough evidence to recommend the general use of a low-glycemic-index diet for people with diabetes." This is based on the fact that not enough testing has been therefore not all foods GI ratings are known and that combining foods may change there over all GI impact.

Even with this caution, I have still yet to find any published report of a negative effect of the low GI diet. So it may not yet be recognized over all, but it certainly seems to pose no known threats to good health.
The Glycemic Index (or GI) is something I've only recently been hearing about in relationship to diets and diabetes. The idea is that some carbs are fast acting while others are slower and have less of a total impact on the rise in blood sugar. The goal is to not over trigger your insulin response or in the case of type 1 diabetics to have a more steady and controlled carb intake so that insulin amounts may be more easily regulated. There has recently been many links to the control of insulin and weightloss. As this article states "
Current Mood:

excited

*No FATS (except those from nuts and chocolate and eggs)
*Low Sodium
*NO REFINED/SIMPLE SUGARS
*NO REFINED OR SIMPLE CARBS (like White flour)
*Only "GOOD" (or Complex) Carbs
I am using Bean and nut flours instead of wheat and agave and erithritol instead of sugar. I would like to explore the use of stevia and include those recipes as well.
Mostly the "Diabetic" Recipes I find use REAL SUGAR or sugar substitutes, but Fats like butter, margarine, shortining and oil and white flour. I think my way of thinking isn't really popular. I think that's because it borrows from several different philosophies. I believe in MUFA's (Katrina please add a comment that explains this better) which stands for Mono-Unsaturated Fatty Acids (I think). Like nuts and chocolate and avocados and olives. But I do not believe in adding any other form of fat at all! I believe in having some carbs, but "good carbs". A good portion to me is 15 grams perserving of complex carbs. The source being a grain or low glycemic indexed sweetener, nut, soy and non fat milk, non fat cream cheese or non fat yogurt (okay, I could have just said Non-fat Dairy!). Does anyone know what you would call this combination of philosophies? For me it is addressing my major health concerns, Diabetes and obesety.
Are the words I'm dying to say!!!!!!!! LOL. I have been slowly, painstakingly piecing my website together. It will be a few months yet. However, I think I'm only days away from registering the domain name. I have created a yummy pecan pie and now have a list of the recipes I have yet to create before I launch my site. It would be so easy to just use established recipes on the web, but I am dedicated to having fewer, but very specific and original recipes on my site. This may be foolish, but it's my vision, my passion. I have yet to find a site or source for recipes that incorporate my ideal mix of goals:
Current Mood:

chipper

Current Music:

Falling Slowly- Glen Hansard and Marketa Iglova (Soundtrack from the Movie Once)


As far as health, my weight has dropped a little more, but my blood sugar was surprisingly high this morning. There is no reason and Im very concerned. I see my endocrinalogist early next month (for those of you who are keeping score, I delayed my appointment a few weeks). I will probably have to consider medication.

I think I'll take a nap, becasue it's still early and I CAN! Then I will make a few calls andhope offices are opened today, then I will make a list of recipes I still need to invent and post them here, fix the computer up for my son, which all boils down to a delay in registering my domain name. So that will have to wait a bit longer. I need a week off!
It's been crazy busy at work and home. The new semester is starting and my workload from the second job at school, doing registrar entries and calculations, has intensified. I wanted to spend this past weekend and today's holiday working on my website, but instead I was doing registrar calculations of total student counts in each class for the fast approaching 2nd semester. Thankfully I recruited a few family members to help and I finished last night. I also managed to squeeze in the developement of two new recipes. Pecan Pie and Apple Pie! I took some photos, I'll post soon. I am amazed at how great they came out. I do want to come up with a dough" crust, for now, my best invention was the "Almond Flour" crust, but even though it's versatal, I don't want my recipes to get monotonous.
Current Mood:

busy
Okay so the veg and fruit delivery came Thursday and I invented a few new treats. So it's officially baking day! I gotta go look through my foods and see what I want to make. I have to plan for the week ahead and make sure Ive made enough for the weekend. Also I want to make more individual cheesecakes and a torte (I invented a chocolate glaze I want to try on the torte). I think I'll make the glaze Orange chocolate. Also my new Queen Helene's (or Maple Pecan cookies are ADDICTIVE!!!). So out of the veggies this week I think I will make chicken soup, roasted cauliflower soup and borscht (I think the menu is inspired by the weather!!!). Also I will make the greens and leeks as needed as stir fry or braised. Sounds good and warm! Also Im still trying to figure out how to make my brownies easier. The one step in the double boiler takes 1 hour. I just don't think thats something people would be willing to do. I think I'll try a variation on that to see if I can cut that time to AT LEAST in half. OH I just had another idea, maybe I'll use the grain sweetened chocolate instead of the unsweetened, that may also cut the time down.
Current Mood:

artistic
South Coast Farms
, I have a good feeling about the next few weeks and my ability to stay on track with my goals.
Not bad, my blood sugar has been lower in the mornings. Today it was 105, but before the holidays was even as low as 95. That's really good. I see my doctor in little over a week from now. She will see my ups and downs, so Im not sure if my numbers will look god to her or not. Shes wanted to put me on Metformin, but I've been trying to convince her that I can control my blood sugars without it. Its not that I am against being medicated (well I am if I can manage without them), but Ive been placed on Metformin before. When I was on Metformin it was impossible for me to lose weight. The Metformin lowered my blood sugars so much that I could not cut back on the amount of food I was eating. I was forced always to treat the lows with carbs and that kept me from any significant weight loss. Off the Metformin I've been able to keep my blood sugar levels higher with less food, and by choosing the right foods Ive also been able to keep the excess insulin from forcing my blood sugar to drop too low. Except of course when I slipped a little over the Holidays and ate a few cookies!!! Those are Sooooo my weakness. Which reminds me, I need to bake up a batch of treats for the week ahead to keep me on my plan and make some easy to grab sweet treats readily available so making the right choices will be easy. Also on Thursday our fruit and veg delivery service starts up again (they stopped for two weeks during the holidays). Between my sugar free recipes and the CSA programs at
Current Mood:

hopeful
Dolphin Chocolates
. I stopped by Mothers markets to check them out (I found them on the web yesterday). Turns out they are grain sweetened and therefore have no simple sugars. Honey is listed in the ingredients, so I will test my sugars carefully, but I think they will be a wonderful treat I can add to my safe foods list.
I am feeling much better. My blood sugars have evened out and I'm not having lows today. YAY. I am being really careful to eat only whole grains (comples carbs). Speaking of that I made a GREAT discovery today
Current Mood:

chipper