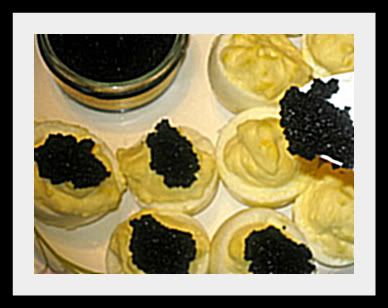 Ingredients:
8 eggs
2 tablespoons light mayonnaise
2 tablespoons fat free sour cream
1 Tablespoon lemon juice
¼ teaspoon Salt
2 ounces small black caviar (American)
Directions:
Place eggs in pan with a fitted lid. Fill with enough water to cover eggs. Bring water to the boil and boil for 1 minute. Cover with lid and let pan sit for 15 minutes.
Peel shells and slice eggs in half reserving yolks in separate bowl.
Mash yolks until powdered, Stir mayonnaise, sour cream, lemon juice and salt to combine.
Fill pastry back with large star tip and pipe mixture into whites or spoon mixture to fill each half.
Refrigerate until ready to serve. Keep caviar refrigerated.
When ready to serve top each egg half with a dollop (approx ½ teaspoon) of black caviar using a non metallic spoon.
Here are the nutrition facts per piece. Recipe make 16 servings.
Enjoy!
Looking for party worthy Appetizers that fit into a diabetic healthy meal plan? Try my kicked up deviled eggs! I found this wonderful recipe for deviled eggs and amazingly as elegant and delicious as these treats are, they are also high in protein and extremely low in carbohydrate. Did I mention that they are delicious?
Current Mood:

Sophisticated